Keeping Depression at Bay
At Your Appointment
What to Ask About Depression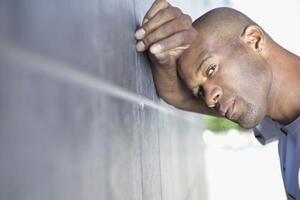 Some people have only one episode of depression, but many have problems and recurrences that may last a lifetime. Approximately one-third of patients with a single episode of major depression will have another episode within one year after discontinuing treatment, and more than 50 percent will have a recurrence at some point in their lives.
The risk of recurrence
Some people are more at risk for recurrence than others.
Depression is more likely to recur if:
You've had more than one episode of depression in the past, especially if you've had several.

Your depression has gone untreated for a long period.

You have lingering symptoms of depression, even after treatment. You've had a previous episode of severe depression with suicidal thoughts or very poor functioning.

Other family members have been diagnosed with depression.

You abuse alcohol or drugs.

You experience a lot of stress.

You have other mental problems or serious chronic physical health problems.

If any of these situations apply to you, tell your therapist so he or she can help you weigh the risks and benefits of discontinuing treatment.
Ongoing drug treatment
If you've responded well to antidepressants, your therapist will probably suggest continuing drug treatment for at least six to nine months. At the end of this period, you may choose to continue the treatment, or you and your therapist may try lowering your dosage or decide to stop the medication. Mental health experts also note the importance of watching out for the possibility that suicidal tendencies can develop after the start of drug treatment in some people, especially children and teenagers.
The Food and Drug Administration (FDA) advises health care providers, patients, families, and caregivers of adults and children that they should closely monitor all patients beginning therapy with antidepressants and when doses are either increased or decreased, for worsening depression and suicidal thinking. The FDA also advises that these patients be observed for certain behaviors associated with these drugs, such as anxiety, agitation, panic attacks, insomnia, irritability, hostility, impulsivity, severe restlessness, hypomania and mania, and that health care providers be particularly vigilant in patients who may have bipolar disorder.
The Food and Drug Administration issued a warning in September 2004 that antidepressants may cause some children and teenagers to become suicidal. However, the overall risk for suicide is low. If 100 patients are given the drugs, two or three more will become suicidal than would have had they been given placebos. Careful observation of behavior and open communication about suicidal thoughts are the keys to observing for these changes in anyone taking antidepressant medication.
Ongoing psychotherapy
Ask yourself the following questions if you've been using psychotherapy to treat your depression:
Am I feeling better?

Do I understand my problems or myself better?

Have I made the changes I wanted to make?

Do I believe I can maintain these changes?

Have I met my goals?

The frequency and duration of psychotherapy depend on your goals and on the type of psychotherapy used. You may have learned what you need to know to modify your behaviors and have better control over reactions to stress or triggers for your depression.
However, maintenance visits may be useful if you slip back to old patterns. For some people, the on-going support of the therapist is key to maintaining stability.
In any event, you should always discuss your thoughts about discontinuing treatment with the therapist. Discontinuing abruptly can be at least self-defeating and sometimes dangerous; it may even be a sign that your depression is worsening.
Medical Reviewers: Nelson, Gail A., MS, APRN, BC, Weisbart, Ed, MD
Last Review Date: Sep 5, 2013
© 2000-2015 Krames StayWell, 780 Township Line Road, Yardley, PA 19067. All rights reserved. This information is not intended as a substitute for professional medical care. Always follow your healthcare professional's instructions.