Overcoming Exercise Barriers With COPD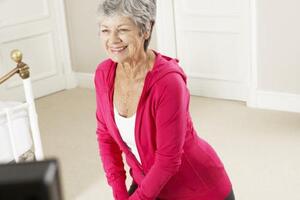 Even though many people with chronic obstructive pulmonary disease (COPD) want to exercise, one of the most difficult tasks is getting over barriers that keep them from being active.
Here are some common reasons people don't exercise. Are any of these true for you? If not, what are your reasons? Weigh them against the fact that exercise can help improve your quality of life.
Reason 1: I get short of breath quickly. I can't exercise long enough for it to do any good.
Any exercise is better than none. You may be able to exercise for only a few minutes, but you will soon be able to add more. Remember to congratulate yourself for your efforts. Log your exercise so that you can see your progress.
Reason 2: I am too tired.
Strengthening your heart and lungs will help you feel less tired in the long run.
Reason 3: I am too busy.
Exercise can help slow the effects of COPD and the need for medical care and hospital stays. So every bit of exercise you do is an investment in your ability to do things you enjoy.
HealthCoach
Reason 4: Exercise is too much work.
Exercise does take a lot of effort. But compare that effort to the option of getting sicker and weaker with COPD. Helping your body get more oxygen by exercising is a good way to decrease the frequency of headaches, sleep trouble and other COPD effects.
Reason 5: I don't like to exercise.
Exercise doesn't have to be tedious. In fact, experts say that people who do something they enjoy are much more likely to stick with it. You can garden, dance or walk and get great results.
Reason 6: I'm afraid to exercise.
Talk openly with your doctor about your concerns. Ask what is safe for you and how to handle symptoms you have during exercise.
Medical Reviewers: Marcellin, Lindsey, MD; Fraser, Marianne, MSN, RN
Last Review Date: Jul 24, 2012
© 2000-2015 Krames StayWell, 780 Township Line Road, Yardley, PA 19067. All rights reserved. This information is not intended as a substitute for professional medical care. Always follow your healthcare professional's instructions.